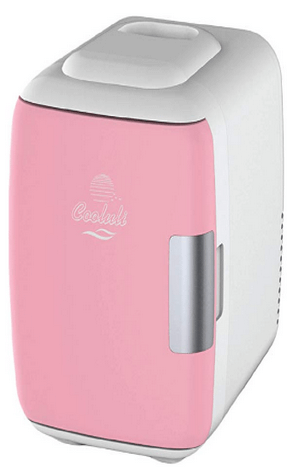 We have recognised that a mini beauty fridge is a necessity to keep cosmetics in tip top condition. So we have set to work to research the market on your behalf to find products that will do the job. For a unit to be chosen it had to be not only popular, but also efficient and received good, positive feedback from those who use them. What we did then was consider all the features of these containers, and by a process of ranking reduced the number to 5.
This saves you the agonising task of deciding which one to buy. Well, you still have to decide which one, but only out of 5............. Aren't we wonderful (-:
The obvious benefit of having the units we have researched is being able to keep your cosmetics in a uniform temperature so that they do not degrade in any way. The small size of these units is great because they won't intrude on the space you have in your bedroom or bathroom, or where ever, actually.
One disadvantage of these handy little units, is that some of them are marketed in a more general useage bracket, that is, they can be used for other purposes such as holding cans of alcoholic beverage. So you will need to become very protective. You don't want to find all your cosmetics on the bed and the unit nowhere to be seen!
There a quite a few products that are ideal for cosmetic storage, so it was initially difficult to start the process of elimination. What we looked at first was popularity as judged by those who had purchased and used them. We were looking at items that had greater than 75% positive feedback. The other points we discussed were features such as color choice, warranty, usefulness, and design. As you can see price is quite variable.
Have to say we found the process of choosing 5 quite difficult because each of us liked one product more than the others. This meant we had to be pretty self disciplined in our process of elimination. Always remembering the purpose of our choosing only 5 items.
I do hope you find what you are looking for amongst our choices!